Train the Trainers events
About | Testimonials | Topics | Trainers | Clubs | Join the team
About Train the Trainers
Trainers on amateur radio courses need to deliver content to students from a wide age range and to an audience that has vastly different levels of knowledge and abilities. In light of these challenges trainers do a great job despite many not coming from a professional teaching background.
The RSGB Train the Trainers course aims to build on the subject knowledge trainers already have and helps them apply appropriate teaching good practice, as used by professional teachers up and down the country, to their Foundation, Intermediate and Full level amateur radio courses.
This one-day course is for RSGB Members, as a membership benefit, and was devised by radio amateurs who are, or up until recently have been, practising professional teachers and lecturers with over 50 years' combined experience in the classroom.
What previous course attendees have said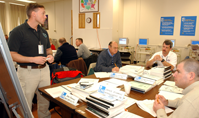 "I really enjoyed the experience and I'm certain everyone else did too."
 "Just a note to thank you all for a most enjoyable day. Having been subjected to an exclusively chalk and talk education years ago, your lecture was a revelation."
"It is an excellent course; thought-provoking, stimulating and above all, useful; and much needed. Oh, and it was great fun. Thank you."
"Following the Train the Trainers course in November I have slowly started to change the training programme. Only two Foundation courses since then, however the changes made, more operating, digital modes, trying to assess individual needs etc. seems to be working so far".
Topics covered
During the course delegates will cover the following subject areas:
Ways students learn – we are not all the same
Alternative delivery methods
Quick and easy lesson planning
Delivering the practical assessments
Obtaining and giving feedback
Supporting students after they pass – using Brickworks in your club
In addition there is a practical workshop that is designed to have delegates put in to practice what they have learned during the day and stimulate ideas.
There will be plenty of opportunity for discussion and for sharing experiences and tips throughout the course.
All delegates will receive a certificate of attendance from the RSGB.
Trainers – register your interest in attending a course
If you would like to attend a Train the Trainers Course we'd like to hear from you; email us, we'll acknowledge receipt of your interest contact you as soon as we have an event near you.
Costs
Train the Trainers courses are a benefit for Members of the RSGB and members of clubs affiliated to the RSGB and, therefore, are free of charge to attend. However, host clubs may make a non-profit charge to cover the costs of hiring the venue and/or providing refreshments.
What do you need to bring with you?
Delegates should bring with them note-taking facilities and a laptop, or tablet, so that they can take part in the interactive sessions.
Clubs – can you host a course?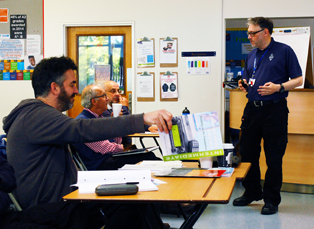 Each year we endeavour to put together a number of Train the Trainer courses around the country and we welcome enquiries from clubs interested in hosting a course.
In order to host a course we ask that the following resources be available:
Accessible venue for delegates with disabilities (ramps, disabled toilets, etc.).
A large room capable of comfortably seating 25 delegates and which is available on a Saturday between 09.00 and 17.00.
Break out areas where small groups can work together (three smaller rooms).
Projector and screen – if necessary we can provide a projector providing we have a team member attending by car.
Reliable and quick Broadband Wi-Fi.
Refreshments (tea, coffee and water) available throughout the day.
Accessible parking.
Somewhere nearby where delegates can buy lunch.
We ask that a representative from your club spreads the word about your course amongst clubs local to you and we will publicise the course in RadCom and on GB2RS News at regular intervals leading up to the event. We will also co-ordinate all delegate bookings – so please don't promise places on the course to anyone; they need to register their interest with us so we don't book too many people on the course for the size of the venue.
We do need between 20 and 25 delegates to make the course viable and we reserve the right to cancel the course up to fifteen days before the course is due to run if insufficient delegates have booked to attend . With this in mind we would recommend that rooms are not hired that require you to incur a large expense.
For more information please contact trainthetrainers@rsgb.org.uk.
Are you a teacher/lecturer who could become part of the Train the Trainers delivery team?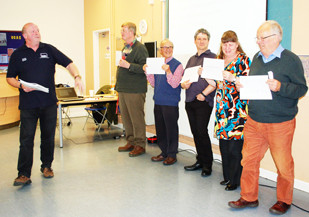 If you are a professional teacher, or college/university lecturer, then you will already be familiar with what is taught, but we need your skills to help us expand the delivery team.
If you think you can help us then you are welcome to attend a Train the Trainers course as an observer. Please contact us first and we will take things from there: trainthetrainers@rsgb.org.uk for more details.