Train the Trainers events
Do you want to attend one of these popular courses?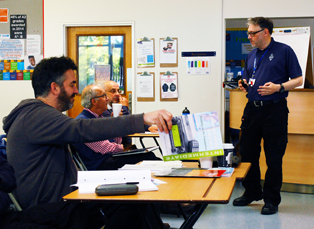 Places are limited to ensure those attending can be given full attention by the delivery team.
Early inquiries and booking recommended.
These events are an RSGB Member benefit so are available for free to any RSGB Member involved with delivering radio exam training.
Programme of courses in 2017 —
Renton, Dunbartonshire, Saturday 2 September
Lomond Radio Club are hosting RSGB Train the Trainers at the John Connolly Centre, 30 Main Street, Renton, Dunbartonshire, G82 4LY on Saturday 2 September. Train the Trainers is free to RSGB members. The club will provide refreshments and a light lunch, donations towards this will be welcome. To book a place please contact Barrie GM0KZK. Email: gm0kzx@googlemail.com
Andoversford near Cheltenham Saturday 4 March
RSGB Train the Trainers will be hosted by the Cheltenham Amateur Radio
Association at Andoversford near Cheltenham on Saturday 4 March between
09.00 and 17.00. To book a place (free to RSGB members) please contact Tony Barron.
Email: chairman@g5bk.uk
Eltham, London, Saturday 21 January
The South East Tutors group of clubs (http://goo.gl/AEV5GN) will be hosting a Train the Trainers on Saturday 21 January 2017. The course will be hosted by Cray Valley RS in Eltham, London, SE9. Places are free to RSGB members. To book please email: courses@cvrs.org
Would you like to be part of the team delivering these courses?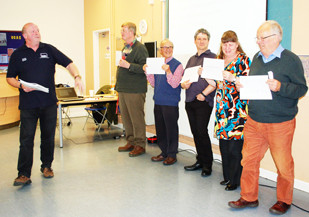 If you are a professional educator then you will already be familiar with what is taught—but we still need your skills.
You're welcome to attend as an observer if you are willing to help us deliver later repeats of this fun and valuable day.
Contact Paul G4DCV, paul@g4dcv.co.uk for more details.
What course attendees have said…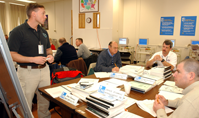 "I really enjoyed the experience and I'm certain everyone else did too"
 "Just a note to thank you all for a most enjoyable day. Having been subjected to an exclusively chalk and talk education years ago, your lecture was a revelation."
"Of the four internal intra-student debates running in the class, David brilliantly stimulated two: do we want amateurs or exam-passers, and can students in reality be given as much time as necessary on practicals."
"It is an excellent course; thought-provoking, stimulating and above all, useful; and much needed. Oh, and it was great fun. Thank you."